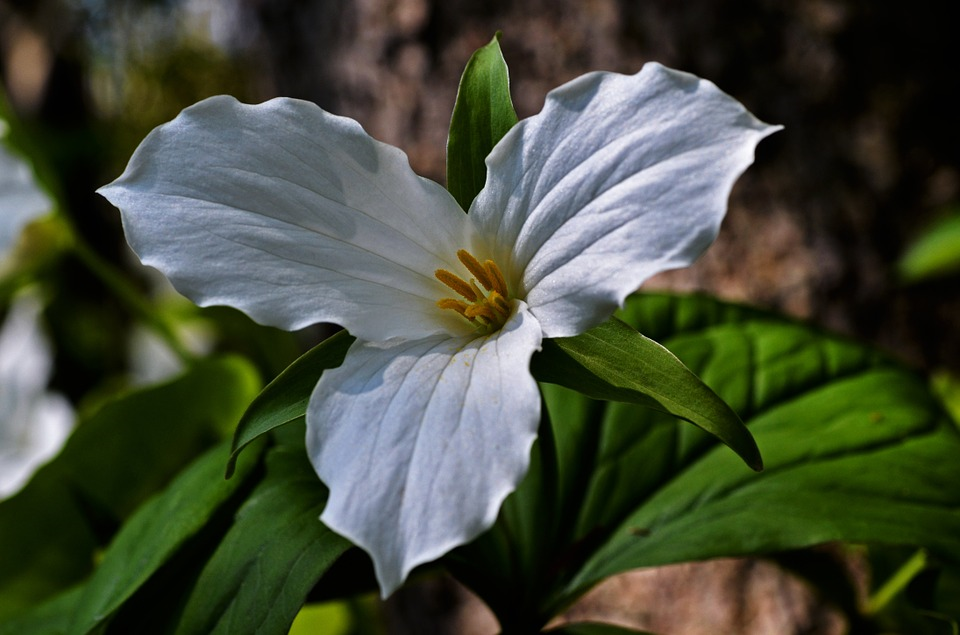 The

white trillium (Trillium grandiflorum)

is the official flower and emblem of Ontario, our province. It is an official symbol of the Government of Ontario. (The large white trillium is also the official wildflower of Ohio).
The beautiful trilliums start to appear in early spring, and is noted for it's three-prong white flower.  It is a delicate flower, so please be careful with it.  It takes 2 years to germinate!
There is a "legend" that the RCMP or OPP will arrest you for picking the Trillium.  This is not true — at this time — but because it is a special flower that takes a long time to come back, please consider leaving it in the forest.
Although not against the law there was a bill proposed, Bill 184, Ontario Trillium Protection Act, introduced in 2009 which read:
Her Majesty, by and with the advice and consent of the Legislative Assembly of the Province of Ontario, enacts as follows:
   1.  The Floral Emblem Act is amended by adding the following section:
Prohibition
   2.  (1)  No person shall pick, cut down, dig, pull up, injure or destroy, in whole or in part, whether in blossom or not, the plant that produces the trillium grandiflorum or white trillium.   
Non-application of subs. (1)
   (2)  Subsection (1) does not apply to any person engaged in,
 

(a)  the lawful carrying out of any public work or of the person's occupation; or
 

(b)  the carrying out of necessary work on property owned or lawfully occupied by the person. 
Offence and penalty
   (3)  Any person who contravenes subsection (1) is guilty of an offence and on conviction is liable to a fine of not less than $500.
Ontario:  A Place to Grow!