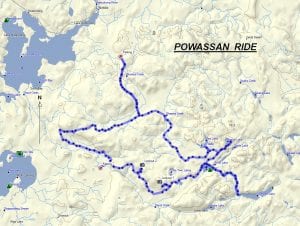 TRACK: POWASSAN RIDE
AREA: Region: Temagami / Temiskaming / Mattawa Between Powassan and Bonfield
DISTANCE: 60 km. wnatvclub.ca
RATING: 3.5 (see cover letter)
ACCESS: – Drive to Powassan on Hwy 11, turn onto main street and then to the left on Memorial Park Drive and continue east for approximately 20 km. to the parking area. – OR drive to Bonfield on Hwy 17 E and access the ride from there. The parking area is yet to be determined. TRACK DESCRIPTION:
– This track takes us through the rolling countryside of the Powassan and Boulter area, visiting 5 picturesque lakes and 2 scenic lookouts. Be sure to bring a camera and binoculars! The ride is about half on well maintained back roads and half on fairly easy trails. Recently there have been washouts and in some places rutted trails. Depending on where they are, caution is advised. – Depending on the parking area, the ride description will change. We will assume coming from Powassan. – From the parking area proceed left, on a good trail passing through the Blue Sea area of Boulter. You can't but notice the beautiful red pine trees. Continue towards the next stop around 20 kms later at Loon Lake. From here, take the trail to Pioneer Road and visit Pascal Lake. Lunch can be at either lake, as both provide lots of parking and shade. – Return and travel along Pioneer Road till we get to the cutoff for the Boy Scout Camp, and take the trail (about 4 kms) to Guillemette Lake. After visiting Guillemette Lake, proceed back on this trail to Pioneer Road, travel down Pioneer Road then turn left onto Little Clear Lake campgrounds. – From Little Clear Lake campgrounds, proceed back along Pioneer Road and trail to one of the Boulter Lookouts, at an elevation of around 1280 ft above sea level. What a beautiful view of the surrounding area. – Continue onto the next lookout, which is about 5 kms. away. It's at about the same elevation but provides a different angle view of the surrounding countryside. – From here proceed along the trail to the fork at the end of Memorial Park Drive and to the parking area.
HISTORY: The name "Powassan" is derived from a First Nation's name that means "bend" because Powassan's original settlement was at the bend of the South River. The location today is known as the Bingham Chute, and is where the present hydro plant is. The village of Powassan began in/about 1880 with the construction of a saw mill and a grist mill (grinding grain). The trail and map committee members of the West Nipissing ATV Club have chosen this area to ride as it will provide for an enjoyable excursion through picturesque countryside, lakes, and lookouts.
CONCERNS :
Logging is taking place and we can see that in the future many of the even aged red pine stands might be cut down. Whatever the case for now we can simply enjoy the beauty. The last time the club held this ride was 2018.
Revised 1/18/2018